We are an experienced team of professionals with a variety of talents and many years experience in videography, photography, CGI , retouching, video graphics and sound. If you don't want a dry hire we can offer you a fully crewed wet hire.
The owner of Meadows Farm Studios is Richard Pinches, who started the studio from humble beginnings in 1988. His dark and brooding photographic style can be seen at
www.richardpinches.co.uk
. Now he has expanded with a talented team of creatives that produces corporate videos, commercials, documentaries and films.
A quick overview here.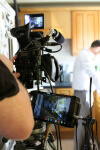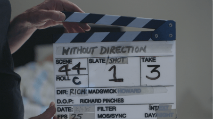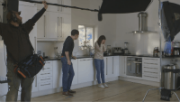 MEET THE AERIAL CREW
We generally shoot as a 2 man crew, one pilot and one camera operator, using a download radio link to a monitor that the camera operator uses for composition. We can supply full crew including camera assistants, director and producer together with our high end cameras for ancillary shooting.
We use a professional digital walkie talkie system with a hands free VOX voice activated system to give full control of all ground crew and any persons in charge of systems or equipment. All this ensures a trouble free professional shoot for peace of mind.
Find out more about our UAV Aerial Filming and Photography services here >